We will use the following text (should be available at Renais by October):
Julian Barbour, The End of Time, Phoenix, 2000. [This presents an updated Machian point of view, together with a readable exposition of basic physics related with space and time. Other materials, if necessary, will be provided by photocopy.]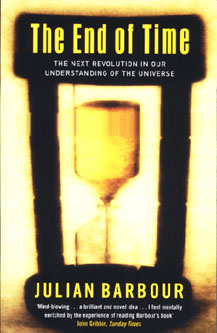 ---
WHY READ THIS BOOK?
Part 3 The Deep Structure of General Relativity
Part 4 Quantum Mechanics and Quantum Cosmology
---
Be ready to acquire some knowledge of general relativity. If you want to prepare yourself in advance, read the following books (Warning: reading the preceding text alone is not sufficient for understanding basic physics, let alone general relativity; you are expected to study elementary materials, along with the text).
Taylor, E.F. and Wheeler, J.A., Exploring Black Holes, Addison Wesley Longman, 2000. [Sample chapters can be downloaded at Taylor's site: http://www.eftaylor.com/. If you know elementary physics--otherwise learn it during the summer!--, this is the best introduction to general relativity. If you wish to begin from special relativity, read Spacetime Physics, Freeman, 1992 by the same authors. These books are highly recommended.]
アインシュタイン『相対性理論』内山龍雄訳・解説、岩波文庫、1988 [特殊相対性理論のみ]。
Many introductory mateirals by myself are available at: