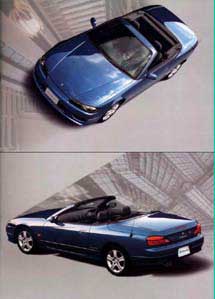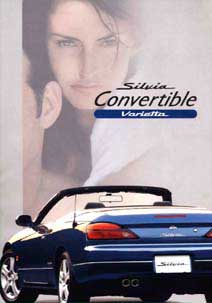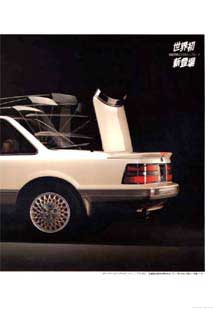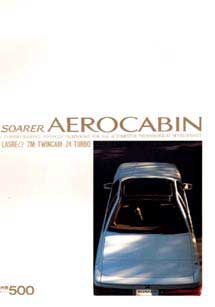 SILVIA CONVERTIBLE "VARIETTA" vs. 2nd SOARER AERO CABIN
You must wonder why the 2nd SOARER is in the new catalogue section. The new SILVIA with a barrio roof, similar to the one on MERCEDES BENZ SLK has been released! But, this barrio roof has been introduced in Japan before. A long time before the SLK, in 1989, the 2nd SOARER had a limited edition of 500. The SOARER AEROCABIN wasn't popular since it was designed as a 2 seater to provide storage space and the price was quite high, at 4,300,000 yen. The VARIETTA has rear seats and the price is a reasonable 3,000,000 yen. Therefore, we shall declare the victor is VARIETTA.

NEW PUNTO vs. NEW POLO
VW POLO and FIAT PUNTO models have been renewed. The POLO has a 1.4 liter engine. And, although the PUNTO has only a 1.2 litter engine, there are many remarkable functions such as the DOHC 16 bulb heads and CVT, with 6 sequential shifts applied. What is more, the POLO GTI and PUNTO HGT ABARTH are equivalent in power and price.

CHRYSLER PT CRUISER vs. TOYOTA OPA
We admit that this is a rather unreasonable comparison. No one would see these two as objects of comparison. However, the engine size (2000cc) on both cars is the same. As for size, the PT CRUISERS is 4288 x 1705 x1600 and the OPA is 4250 x 1695 x 1525. They are very similar. Both, are 5 door SUV (TYPE), and the prices for the PT CRUISER is 2,300,000 (CLASSIC) and the OPA S PACKAGE is 2,180,000 yen. Now can you tell how similar in character these 2 cars are? Furthermore, both don't belong to any specific genre, but instead to niche market. For your information, the PT CRUISER is sold out for this year. Finally, the catalogues for the OPA reveal the most outstanding design quality for TOYOTA automobiles.